Articles about Jorge: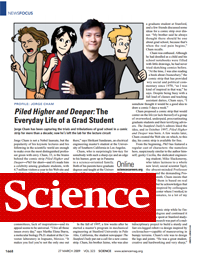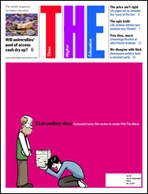 This is the home page of Jorge Cham.

Jorge is the best-selling and Emmy-nominated creator of "PHD Comics", the popular ongoing comic strip about life (or the lack thereof) in Academia. He is the co-creator and co-Executive Producer of the celebrated animated series Elinor Wonders Why, which airs on PBS Kids and in 78 countries around the world. He is the co-author of the award-winning book We Have No Idea (and its follow-up FAQ-U), and the co-host of the iHeart Radio show Daniel and Jorge Explain the Universe. He is also the co-founder of PHDtv, a video science and discovery outreach collaborative, and the author of the upcoming books Oliver's Great Big Universe and Out of Your Mind.

Jorge earned his Ph.D. in Robotics from Stanford University and was an Instructor and Research Associate at Caltech from 2003-2005. He is originally from Panama.

To read his comic strip, click here

To learn about the research he used to do, click here

Read his profile in Science Magazine, The New York Times, Wired Magazine, The Chronicle of Higher Education, the Times Higher Ed, or LA Weekly.


To book Jorge for a lecture, click here.


Watch Jorge's TEDx Talk about The Science Gap:


More information about Jorge:
Jorge earned his Bachelor's of Science from Georgia Tech.
In 2009, he was awarded the 2009 NSF/AAAS International Science and Engineering Visualization Challenge First Place in Informational Graphics with his collaborator Dwayne Godwin, a professor of Neuroscience at Wake Forest University. Their comics about the brain appeared in Scientific American Mind from 2010-2017.
In 2011, PHD Comics was adapted into a feature-length film called "The PHD Movie", which screened at over 500 locations worldwide, including all 7 continents. A sequel titled, "The PHD Movie 2: Still in Grad School" was produced in 2015 and also screened worldwide. Nature Journal called the movie "Astute, funny" while the New York Times wrote, "Well, Postdocs think it's funny."
To date, he has delivered over 400 invited lectures internationally on his experiences in academia and being an independent artist and science communicator.
The PHD Comics website has been visited by over 60 million visitors in the last 10 years.
Six book collections of his comics have been published (available in stores and online).
"We Have No Idea," his book co-written with physicist Daniel Whiteson was published May 2017 by Riverhead Books/Penguin Random House and was a Der Spiegel Best-Seller. The book won the Wenjin National Book Award in China.
His animated explanations of the Higgs Boson and Gravitational Waves went viral and have been viewed millions times.
He was the subject of a question in a British Quiz Show.
He lives near Los Angeles, CA with his family.
He was named one of Los Angeles' most interesting people of 2013.


Contact information: jorge

phdcomics.com